First
,
I ran yesterday with no pain and no NSAIDs!!
Only 2 miles, but considering that in every run I've had in the past 2 weeks the pain has started
immediately
after mile 1, this is really freaking good news :D Every step of that second mile I was ecstatic there was no pain but also
extremely
nervous that it was going to come on suddenly. Still preceding with caution though, I'm not out of the woods yet.
Today I'm participating in
What I Ate Wednesday
again, perhaps my recovery this week has come from the insane amount of veggies I ate the past two days :D I'm posting some meals from both Monday and Tuesday, I've been working on getting enough protein and lots of veg. Especially since I'm going hard core this month with the pull-up work till I get it! My muscles need that extra protein to recover and grow :D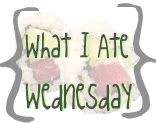 I'm not posting my breakfast this time since it is the same as
last time
and pretty much always the same: High Fiber English Muffin, PB, Apple and Banana Slices and a sprinkle of cinnamon. With coffee.
This week with the emphasis on protein and veggies I had to add in a meal to get enough calories, well actually I split lunch in two: early lunch and late lunch.
Monday
I looked forward to this meal all weekend as I had picked up
Mango Chipotle Salmon
(Starkist) and Fresh Chopped Mango Salsa from Stop and Shop. I knew once I found the salsa I was going to make a variation of the
Avocado Tuna Lettuce Boats
I made (and loved!) a few weeks ago.
Lunch#1
Mango Salmon Lettuce Boats:
So simple, I just mixed the Mango Chipotle Salmon with the Mango Salsa and some chopped red pepper. Then spread generously on romaine leaves.
1 Package of Salmon = 120 cals/ 20g protein.
Lunch #2
Orange Pepper stuffed w/ Chicken and sprinkled w/ shredded cheese:
Lousy pic, great meal.
I used 4oz of canned chicken= 120 cals/ 24 g protein
Dinner
Roasted Red Pepper and Chicken Wrap:
High Fiber Wrap (Mission Carb Balance, 120 cals/ 11g fiber/ 5g protein),
Roasted Red Peppers, Sliced Roma Tomato, Romaine, Basil, Grilled Chicken, Mozzarella and Balsamic Vinaigrette.
Tuesday
Lunch #1
Mixed Veggies with Garlic & Herb Chicken:
Steamer Bag of Broccoli/ Cauliflower/ Carrots
Garlic & Herb Chicken (Bumble Bee) 110 cals/ 24 g protien
Grated Parmesan Cheese
Lunch #2
Tossed Salad with Veggie Burger:
Romaine, Carrot Chips, Red Pepper topped with
Dr. Praeger 's
California Veggie Burger.
Also a sprinkle of shredded cheese and Green Godess Dressing.
I am obsessed with these veggie burgers!! Each one has 110 cals/ 4g fiber/ 5g protein and I could eat a box (4) of them as a meal with nothing else. My mom introduced me to them :)
I didn't take pictures of last nights dinner; we had steak fajitas using the high fib wraps and mucho peppers and onions. I did my run in the evening then iced and after taking pics for 2 days I was done, I could never be a food blogger.
I suppose there is various answers for this, but for those who are knowledgeable: How much protein would you recommend for someone trying to gain some arm strength/ muscle? I've been aiming for 75-100 g. My average Cal intake is approx. 1,300- 1,500.