I've been wanting to participate in WIAW (hosted by
Peas and Crayons
) for the last few weeks, but I kept forgetting to take pics on Tuesday. Then I'd see other people's WIAW posts and think "ohhh I meant to do that" :D Matt called me out on it and said I'm lying because it is really what I ate on Tuesday, I tried explaining that in order to post you have to take pics the day before, whatev. He also called me out for posting a pic of my underwear 2 days ago, Sorry Babe!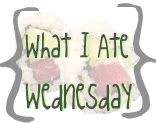 I figured this would be cool to do every once in a while, since I occasionally get asked how I eat on a daily basis. I'm no food picture pro though; I took all these with my phone:
Breakfast:
High Fiber English Muffin spread lightly with PB, topped with Gala Apple and Banana slices, and sprinkled with cinnamon (Same thing every morning!)
Coffee with Hazelnut Creamer
Single Serving bag of Edamame
Lightly sprinkled with salt
Doesn't look so pretty, but it was awesome!
Romaine lettuce, Fresh chopped salsa, Avocado (about half), Grilled Chicken and a few crunched tortilla chips. No dressing needed; just mixed it up and the avocado and salsa coated it nicely :)
High Fiber Wrap, Roasted Red Peppers, Melted Mozzarella, Romaine, Roma Tomato, Chopped Basil and drizzled with Balsamic Vin.
Not pictured: 2 Reese's Easter PB Cups :), Few slices of Turkey.
As for workout: I did what was "supposed to be" an easy 3 miler. My first mile was 6:13 (oops). The rest was definitely easy pace, 2- 8:30's
~ Zuzana's 4 minute workout that I posted on Thursday
~ 50 Kettlebell swings with 20 lber
~ Few pull-ups with as minimal jump as I could manage
~ Nighttime Abs: 2 min plank, alternating toe touches, russian twist w/ KB, leg raises and holds.