I was in a completely lousy mood this morning for a number of reasons (all of which shall go unspoken :p), fortunately Fridays are my usual stair running day and stairs are the best way I know to get out of a mood. With my music blasting I busted my ass for 22 1/2 minutes and felt much, much better afterwards :D I consider running stairs free therapy(as well as any kind of sprint/incline workout.)
My playlist:
One Eight Seven~ Senses Fail
Check Yes Juliet~ We the Kings
All Over You~ The Spill Canvas
Down~ Blink-182
Playing For Keeps~ Matchbook Romance
Promise~ Matchbook Romance
(Love them! Might constitute the majority of my race playlist)
I realized during the past two days that I totally need to get new headphones before Thursday. I always get the cheaper ones that go over your head because they stay in my ears better than the ipod phones. The only problem is that the wire wears out fast-ish and then the music goes in and out depending on the cord placement, but since they are cheap I don't remind replacing them every year. I will not have another music malfunction this race!
Tomorrow starts the "Holiday Bootie Buster Challenge" hosted by
Run To The Finish
. It already has 300+ participants and is such an awesome way to stay motivated through the winter holidays!
Couldn't get this to post the right way so the link is
here
I'm also participating in the "Thankful Healthy Blogger 5k" hosted by
A Journey to Thin
, with my planned 5k race on Thanksgiving morning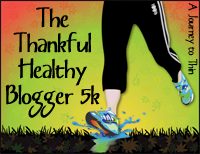 ~Who can name the source of my title quote? There's a hint in my post ;)